Why you should consider building a detached metal garage
Posted by Hugh Frame on
Why you should consider building a detached metal garage
Free standing carports
A free-standing carport, in the huge choices we've got here at Car Covers and Shelter, makes a lot of sense for protecting your vehicle. Carports are quick to install, easy to use and enhance your home, aesthetically and value wise! so why you should consider building a detached metal garage is explained here.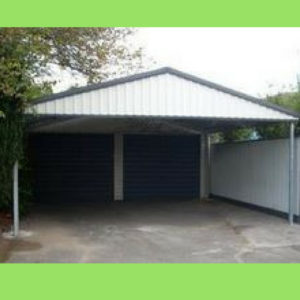 Carports are great but sometimes you require more security
However, sometimes a single bay garage or a double bay garage is really what you need for that added security and protection. The most inexpensive way of having a single bay or double bay garage is by buying a garage shed kit. It just so happens that Car Covers and Shelter now has its own range of metal garage kits.
The CCS Range of Garage Sheds
The CCS range in fully Australian made and designed with a great 15 year warranty.
The range comes in: -
14 colour choices
4 different types
three height levels (2.4m, 2.7m and 3m) and
can be customised with your choice of windows, personal access doors and skylights. Double Garage Shed
Of course, they come with roller doors which can easily be fitted with a motor and remote control and all are supplied with site-specific engineering for easy local council approval.
Garage Shed Designs Available in the CCS Range
 A garage is a convenient and helpful element for living, prompting many to make the effort to build a detached garage. The benefits of safety and cost savings often outweigh those of an attached garage, and a covered breezeway can be added to provide shelter from the elements as needed.  
Reasons to Build a Detached Garage
The position of the home does not allow the space for an attached garage.
The architectural style of the home isn't conducive to an attached garage.
A detached garage separates the home from potentially hazardous accidents or fires if flammable or harmful chemicals are kept in the garage.
The cost can be less than adding on to an existing structure, depending on the style of the garage.
A garage used as a workshop is best detached from the house because of noise or health concerns.
Insurance costs can be less for the detached garage.
Building a detached garage will also enhance the layout of the property and add additional storage for a home that needs to expand.  So why you should consider building a detached metal garage - because it is a great property addition to your new solar carport!
---
Share this post
---
---
---
0 comment