Selecting the best car cover or custom car cover may become an exhaustive task as there is a large variety to choose from.
These 4 questions will make the selection easier for you to choose the best generic cover or custom cover for your car.

Question 1: Where do you park your car?
Choosing the best car cover for your car – generic cover or custom cover – Many people have indoor parking at their home. Under cover is obviously better than outside as there are less environmental pollutants and sunlight to damage the car's exterior. In an indoor parking area, still make sure that electricity wires and heaters do not come close to the car. Any outdoor cover fabric can be used indoors but generally a lighter fabric will do the job as dust and accidental scratches and grease stains are often the main concern.
a light reflective car cover, such as the Evolution range, will give much superior protection, particularly from the sun which always seems to get in to a carport at some time of the day. If you have to park outdoors, make sure you park your car in shaded areas. In Australia in particular, sunlight causes the worst damage to the paint (maybe after hail damage). Environmental pollutants and compounds also deteriorate a car's exterior. For outdoor parking, use a thicker fabric preferably in a reflective (grey/silver) colour. Cars parked under trees or other overhangs also face a risk of bird excretion and need thicker fabric covers.
Question 2: What are the weather conditions in your area?
Weather is the most important factor in deciding the cover's fabric. When it comes to weather, choose materials or cover styles that will protect your car in your area. At the timer of writing, we have had a massive demand in SE Queensland and NSW for Hail Protection Covers after some of the worst hail storms in over 20 years.
Protect your asset
It makes sense to protect your $20,000+ asset with a simple and effective cover for around just $300. Do not use cheap waterproof plastic covers in rainy and cloudy localities. They can do more harm than good by trapping condensation and causing corrosion. Your car cover must be able to breath. In sunny and tropical areas, a thicker UV protected fabric is best to choose. In dry and dusty localities, a good reflective fabric is required to reduce the dust and photo degradation on the surface. People living near coastal areas need to fight rust and paint damage from the sea air simultaneously. Fabric with lesser absorbing properties is good to avoid moisture and minerals in the air.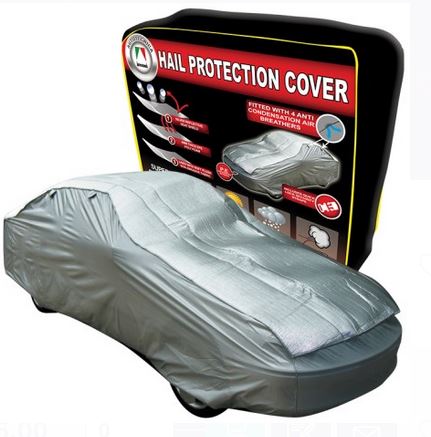 Question 3: How often do you use your car and take your car out?
Many people keep their classic cars parked and/or use other sources of transportation for everyday activities. People who take their cars out very often also regularly clean the car. A majority of us don't have to clean covered and parked cars as often. Regular cleaning and maintenance is more important than the choice of fabric for cars which spend more time outdoors. However, if you keep your car parked most of the time, then cover it with a good reflective and dust-proof thicker fabric. We are choosing the best car cover for your car – generic cover or custom cover.
Question 4: What fabric color will match your car?
Custom fabric covers are very popular these days. While a colourful cover might look great on your car, remember the purpose of the cover is to protect. As stated above, in the Australian climate use UV reflective colours only for outside. Living in sunny and tropical areas as we do, we must use lighter colors in car covers. If its an indoor cover, you may choose darker fabrics to your choice. Choosing the best car cover for your car – generic cover or custom cover makes a big difference to the protection offered.
Choosing the best car cover for your car generic cover or custom cover - if you still have doubts, feel free to phone us and ask for recommendations.