The Best-Selling Hail Protection Covers in Australia
These are the best-Selling Hail Protection Covers in Australia and the best value outdoor Car bubbles for complete hail protection
Widest range of car coverings in Australia, best service at the best prices!
Outdoor Car Bubbles for Hail Protection in Every size
We have The best-Selling Hail Protection Covers in Australia, made specially for Australians. First thing to consider if you wonder about the price of hail protection covers - "How much will I loose on my insurance excess if I have to claim for hail damage?" - $600 to $1000 is the Australian average plus all the hassle and time off the road for repair!
The new Outdoor Car Bubble Collection for Sedans, SUV;s Utes and motorcycles is a superb way to protect a valuable vehicle from all the Australian Climate can throw at you. Particularly if you have a very valuable vehicle or a loved classic car, the Car Bubble is the way to go. Read more about car bubbles on the car bubble page.
Hail Protection Car Covers
You should find an Autotecnica Hail Damage  Prevention cover in all sizes for every sedan and SUV/4WD on the Australia's roads.
[caption id="attachment_507" align="alignright" width="296"]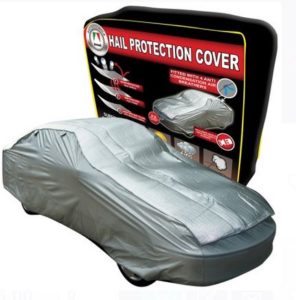 Choosing the best car cover for your car - generic cover or custom cover - The best-Selling Hail Protection Covers in Australia[/caption]
A good Car Cover - Description - the best-Selling Hail Protection Covers in Australia
All good car covers have an outer protective fabric and an inner soft-plush fabric to ensure paintwork is protected. These covers are no different. However, between these 2 layers on the top of the car covers, there is a third layer of 6mm thick compressed polyester. It is this layer that protects your car from hailstones, even relatively large hail.
In a hailstone storm, the very strong winds which often accompany the storm means that the hailstones don't drop vertically from the sky - in the worst of storms they seem to be coming down from the side - horizontally!
The Premium Hail Cover will protect your side windows as the 6mm compressed polyester comes down the side and over the windows. This is not a feature of the Standard Hail Cover which only has the top protection.
It's still possible to have window protection from hailstones but still end up with side dents and damage after a severe hailstorm. This is where you need The Ultimate Hail Cover. The Ultimate has the 6mm compressed polyester on top but the rest of the cover is fully lined with 4mm compressed polyester offering full vehicle protection in any hailstorm. The side impact of hail will never bee as severe as on the top where the hailstones have had hundreds or even thousands of metres to accelerate and fall right on top of your vehicle.
The all-weather protection offered by these covers will protect your vehicle from most of what the Australian climate can throw at you! Rain-proof, protects from the sun with UV protection, protects against dirt bumps and scratches and of course the massive damage that can be caused by a hail storm.
All three Hail Protection Car Covers offer:-
Special Soft Plush, Non-Abrasive plus, soft-lining backing fabric
Full protection of car duco and interior from harmful sun rays
6mm compressed polyester on top for hail protection
Double stitched high resistant P.E waterproof fabrics
All feature security holding straps and elastic hems for a secure fit
Sizes available for most passenger & 4wd vehicles
All are fitted with 4 Anti-Condensation air breathers
1 year warranty
Please Note
Sedans and SUV's have covers specifically made to fit.. The 35/137, 5.27m long is good for most station wagons. A sedan cover will protect a hatch-back of the same length. A small 'bump' at the rear where allowance has been made for a sedan boot might be seen..
Station wagons and vans can be protected with the SUV covers, (the 5.2m sedan will fit most station wagons) although again, you can not expect a perfect fit and in some cases, the cover may touch the ground. All covers do have elastic edges and tie-downs to hold them firmly in place.
Customers use sedan covers or SUV covers (double cab) to protect their Utes. These covers will protect your vehicle from Hail but there is no perfect fit for your Ute. Unfortunately, hail covers are not available in the custom car cover ranges either.
For more information on hail covers for Utes please read here.
Of course, the best hail protection is a carport or garage. They are easy to install and quite affordable and will last a life-time. Check out the carports at Professional Choice Carports and Pergolas.
---