Hugh Frame wanted to do his bit for the environment and install a solar carport at his home. Lo and behold, no company made such a thing.
So rather than taking no for an answer, the Wilton entrepreneur filled the gap in the market and has launched the first residential solar carport business in the country.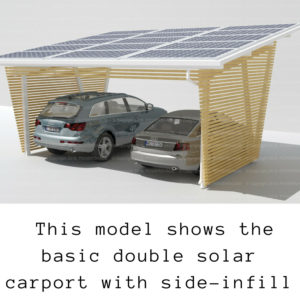 "I bought a classic car two years ago and needed another garage to store it," Mr Frame said.
"It would be an excellent idea to put in a carport that had solar panels on the roof.
"I was shocked that I could not find a company who made them in Australia.
"I called around manufacturers who built commercial ones and asked whether they would build one for a residential property."
Powershade
Mr Frame's quest led him to contact Powershade, a commercial solar carpark provider based in Melbourne.
The entrepreneur and company teamed up to design and manufacture carport kits.
"We have now launched to the market," Mr Frame said.
"This is an innovative piece of technology now available in Australia."
Previously, residents could not even purchase a solar carport from overseas because they did not meet Australian standards.
Australia Lags behind
Mr Frame said Australia lagged behind other countries in generating electricity from the sun.
"In order of solar power capacity generated, Australia comes in at number nine," he said.
"The top five solar energy-producing countries have been selling and erecting solar carports for some time.
"Solar carparks are becoming more common in Australian shopping centres.
"Now Australia has its first single and double solar carport kit for the residential/home market.
"Two basic kits have been released with some add-on options.
"The basic kits are a modern looking design with a seamless and slim-line finish that should enhance the value of any property.
"The single solar carport kit generates 3.9 kilowatts and the double at 5.8 kilowatts.
"Hopefully the introduction of Australia's first solar kit will encourage people to think more efficiently on how to use our diminishing yard areas."
Mr Frame said he was environmentally-conscious and moved to Wilton 11 years ago for the country lifestyle.
"My wife and I are big gardeners and the first thing we did at our home was put in a solar hot water system and solar panels on the roof," he said.
"Having a solar carport seems like a sensible addition to many houses."
Starting Price
Mr Frame said the carports started from $14,000 for a single structure and would require council approval.
"The kits are well-priced and are about the same cost of a new carport and a similar-size solar output system," he said.
"It's a structure that will eventually pay for itself in electricity generated.
"The power produced is normally linked to the household power box but a battery can also be installed and you can develop your own personal charging station for your new electric car.
"Like any carport, the structure can be used as a garden patio or gazebo, an interesting way of turning part of your garden into your household energy source."
Mr Frame has developed a website for the business, Solar Carports Online, and will sell via the
website
. 
Article 2 - News
To Solar Carport or Not to Solar Carport, that Is the (or at Least a) Question
Buying a solar
carport does make sense
Most people think, and most analysis occurs, in a stove-piped fashion — thinking of issues in channels of problem and solution without consideration of second- and third-order effects. Difficult in conception and more costly in resources (whether brain cells, time or cash), narrow and constrained thinking often fosters (not just far from optimal but) simply bad decisions. This is true across virtually all of human existence. The energy arena is far from an exception to this problem. From 
not considering lifetime electricity use when buying Christmas lights
to using the "commodity" price rather than delivered cost ("
fully burdened cost of fuel
") in military procurement decisions to only discussing energy-savings returns off insulation or new windows without talking about 
comfort or health benefits in the house
to ignoring the 
productivity benefits from greening workplaces
(and 
schools
), the limited nature of thinking when it comes to energy and environmental issues is hard to exaggerate. (And, of course, these are only benefits "within the decision maker" rather than all the externalities — both benefits and costs — that are left out of the economic transitions.) The all-too-often limited lens restricts us (all of us) to sub-optimal or simply wrong decisions.Thinking about 
solar carports
provides a window on this issue.A recent email correspondence with a top-notch scientist provides a window on the challenge of thinking narrowly vs. the difficulty (but greater accuracy) of broader analysis. In discussions related to the 
solar-roadways
concept, we had the following exchange about 
solar carports
.
Article 3 - News
Economic growth doesn't have to wreck environment
Original News story by ROSS GITTINS
I think that most of us care about our environment, even those climate change sceptics I don't think want to ruin our environment but in most cases just put growth and wealth above everything else. Ross Gittins of the Sydney morning Herald gives us some good news in his article Economic growth doesn't have to wreck environment He is pointing out that we have economic growth happening in Australia, which is good for us all, but at the same time our negative impact on our environment is improving - not disappearing but improving! 
Official agency publication - economic growth doesn't have to wreck environment
An official agency has published some good news on the subject just two weeks ago. The Australian Bureau of Statistics
published
its "Australian environmental-economic accounts" for 2015-16, which contained what certainly looks like good news, but interestingly it has attracted minimal interest from the media and environmental groups.
   I've written a few blogs about how we Australians, some of the quickest in the world to adopt new technologies, are lagging behind when it comes to generating our own solar power. Is this another example of our apathy on the subject of increasing economic growth BUT at the same time caring for our environment and the future of our children and grandchildren?I do care about our environment and this is a really good -news story.Another good-news story would be the interest shown so far in the release of Australia's first solar carport kits In just over a month, we have had over 63,000 hits on our website and many inquiries. Solar Carports are another small step in creating power for our future economic growth without destroying our environment in the process another pointer to the fact that economic growth doesn't have to wreck environment.
News - Solar and solar ready carports will protect your car and generate your electricity
Article 4 - News
News - Are you storm prepared?
The RACQ are aware of the damage our weather than cause to our vehicles. Solar carports will protect your car and generate your electricity so its a 2 in 1 sensible upgrade for your home or small business.We read from them"Every year violent storms, flooding and large hail damage thousands of Australian vehicles. Many are 'written off' because they are considered uneconomical to repair.
Find out how you can protect your car from storms.
Keeping your car under cover during these events will offer the greatest protection against damage, however this isn't always possible or practical.
Here are some tips to protect your car from storm related damage.
Plan ahead. If a storm is forecast, try to make arrangements to park your vehicle under cover, delay the trip or use alternative modes of transport.
If caught in a storm, look for safe shelter. This could include a covered car park, a service station awning, under a bridge etc. Don't place yourself or others at risk by where you choose to shelter. Be considerate of property owner's rights if sheltering on private property.
Safety should always be your priority
Don't park or shelter under trees.  They can be blown over or drop branches.
Don't speed up to beat a storm. This can lead to a crash – instead look for a safe place to shelter until the storm passes.
If caught in a severe storm where visibility is reduced, try to pull well off the road to avoid being hit by other traffic.
Turn on lights to increase visibility while driving and use the hazard lights if you are forced to stop at the side of the road. Wherever possible choose a safe place to stop.
If it's flooded – forget it. Even relatively shallow flowing water can sweep vehicles away.
Consider where you park. If the area has a history of flooding in extreme weather events, find somewhere else to stop.
If your home or yard is prone to flooding organise a safe alternative parking spot for your car.
News - Are you storm prepared?
While we live in the Sunshine State, us Queenslanders know it's not always blue skies. From cyclones, floods and summer storms, we've experienced our fair share of natural disasters. Alarmingly, RACQ statistics show half of all Queensland homeowners have done nothing to prepare for the upcoming storm season. So, are you and your family prepared for when disaster strikes next? Take a look at the first RACQ TV episode about being storm prepared. It has a checklist of simple things to do around your home to make sure you're ready for that next storm.