Hugh Frame wanted to do his bit for the environment and install a solar carport at his home. Lo and behold, no company made such a thing.
So rather than taking no for an answer, the Wilton entrepreneur filled the gap in the market and has launched the first residential solar carport business in the country.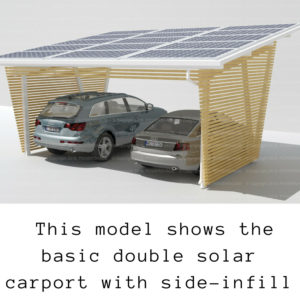 "I bought a classic car two years ago and needed another garage to store it," Mr Frame said.
"I thought it would be an excellent idea to put in a carport that had solar panels on the roof.
"I was shocked that I could not find a company who made them in Australia.
"I called around manufacturers who built commercial ones and asked whether they would build one for a residential property."
Mr Frame's quest led him to contact Powershade, a commercial solar carpark provider based in Melbourne.
The entrepreneur and company teamed up to design and manufacture carport kits.
"We have now launched to the market," Mr Frame said.
"This is an innovative piece of technology now available in Australia."
Previously, residents could not even purchase a solar carport from overseas because they did not meet Australian standards.
Mr Frame said Australia lagged behind other countries in generating electricity from the sun.
"In order of solar power capacity generated, Australia comes in at number nine," he said.
"The top five solar energy-producing countries have been selling and erecting solar carports for some time.
"Solar carparks are becoming more common in Australian shopping centres.
"Now Australia has its first single and double solar carport kit for the residential/home market.
"Two basic kits have been released with some add-on options.
"The basic kits are a modern looking design with a seamless and slim-line finish that should enhance the value of any property.
"The single solar carport kit generates 3.9 kilowatts and the double at 5.8 kilowatts.
"Hopefully the introduction of Australia's first solar kit will encourage people to think more efficiently on how to use our diminishing yard areas."
Mr Frame said he was environmentally-conscious and moved to Wilton 11 years ago for the country lifestyle.
"My wife and I are big gardeners and the first thing we did at our home was put in a solar hot water system and solar panels on the roof," he said.
"Having a solar carport seems like a sensible addition to many houses."
Mr Frame said the carports started from $14,000 for a single structure and would require council approval.
"The kits are well-priced and are about the same cost of a new carport and a similar-size solar output system," he said.
"It's a structure that will eventually pay for itself in electricity generated.
"The power produced is normally linked to the household power box but a battery can also be installed and you can develop your own personal charging station for your new electric car.
"Like any carport, the structure can be used as a garden patio or gazebo, an interesting way of turning part of your garden into your household energy source."
Mr Frame has developed a website for the business, Solar Carports Online, and will sell via the
website
. 
Article 9
Guide to Buying and Using Car Covers
The following is from a Canadian Insurer interested in making sure that their client's vehicles are stored well (they don't want claims!). Their great advice is good for Australians who also want to look after their cars.
The original article can be found here.
If you're planning on storing your car for winter, a quality car cover can be a great way to protect it's exterior from
getting dirty, scratched, or rusty
. Here are several considerations to take into account when determining which car cover works best for your vehicle, and how to get the most out of it.
Indoor Vs. Outdoor Car Covers
If you plan on parking your car outdoors for the winter, you need to understand the effect the weather conditions will have. For Ontarians, the winter months with their intense snow storms can accelerate the wear process, and ice that is left on a car's surface for extended periods of time can cause dents and scratches.A heavy-duty car cover made of WeatherShield fabric, which sheds water as soon as it hits the material, is recommended to protect against heavy snowfall during the winter.If you're storing your car indoors, a lightweight car cover made of woven polyester or a poly-cotton blend may be sufficient to protect against dust build up.
Custom Vs. Universal Car Covers
Universal covers are made for the average car, so they will fit your car's approximate size but won't have designated pockets or holes for your mirrors or antenna or any of your car's unique features. A car cover that is too baggy may be less resistant to the elements, and one that is too tight may put stress on the body and be difficult to put on and take off.A custom car cover is your best bet if you plan on storing your car away all winter. Like a tailor-made suit, custom car covers hug every part of your vehicle – they're made specifically for the year, make, model and style of the vehicle it was purchased for. They last longer than universal covers, and are available in a wide range of materials.
Applying Your Car Cover
If your car cover comes with mirror pockets (most custom fit patterns do), it's important that they be placed over the side mirrors before the cover is stretched over the bumpers.Next, identify the front and rear of the cover (the front will be market front, and the rear has a loop sewn into the hem). Hook the loop around the licence plate or inside the trunk. Cover your vehicle front back to front, securing firmly over the front and rear bumpers. Secure if with grommets if included with your car cover. To uninstall, reverse the process and unroll the cover back along the car and fold down the sides.
Car Cover Cleansing & Maintenance
The performance of your car cover can be compromised if it becomes dirty. Cleaning properly when necessary helps to extend its life. Instructions vary depending on which fabric your car cover is made of, but generally, car covers are best spot cleaned with soapy water using a mild detergent and cool or lukewarm water.Most car covers can be washed in a washing machine, but it is best to avoid using one with a centre agitator, using fabric softener, or drying any type of specialty cover in a dryer.A high quality car cover can be a helpful accessory to preserve your vehicle's appearance through the winter months – but it's not enough to ensure it's full protection. Even if it is dormant for months at a time, insuring your vehicle with the right coverage is the most important measure you can take. Before winter sets in,
make sure you've got the right coverage
.
Article 8
To Solar Carport or Not to Solar Carport, that Is the (or at Least a) Question
Buying a solar
carport does make sense
Most people think, and most analysis occurs, in a stove-piped fashion — thinking of issues in channels of problem and solution without consideration of second- and third-order effects. Difficult in conception and more costly in resources (whether brain cells, time or cash), narrow and constrained thinking often fosters (not just far from optimal but) simply bad decisions. This is true across virtually all of human existence. The energy arena is far from an exception to this problem. From 
not considering lifetime electricity use when buying Christmas lights
to using the "commodity" price rather than delivered cost ("
fully burdened cost of fuel
") in military procurement decisions to only discussing energy-savings returns off insulation or new windows without talking about 
comfort or health benefits in the house
to ignoring the 
productivity benefits from greening workplaces
(and 
schools
), the limited nature of thinking when it comes to energy and environmental issues is hard to exaggerate. (And, of course, these are only benefits "within the decision maker" rather than all the externalities — both benefits and costs — that are left out of the economic transitions.) The all-too-often limited lens restricts us (all of us) to sub-optimal or simply wrong decisions.Thinking about 
solar carports
provides a window on this issue.A recent email correspondence with a top-notch scientist provides a window on the challenge of thinking narrowly vs. the difficulty (but greater accuracy) of broader analysis. In discussions related to the 
solar-roadways
concept, we had the following exchange about 
solar carports
.
Article 7
Economic growth doesn't have to wreck environment
Original story by ROSS GITTINS
I think that most of us care about our environment, even those climate change sceptics I don't think want to ruin our environment but in most cases just put growth and wealth above everything else. Ross Gittins of the Sydney morning Herald gives us some good news in his article Economic growth doesn't have to wreck environment He is pointing out that we have economic growth happening in Australia, which is good for us all, but at the same time our negative impact on our environment is improving - not disappearing but improving! 
Official agency publication - economic growth doesn't have to wreck environment
An official agency has published some good news on the subject just two weeks ago. The Australian Bureau of Statistics
published
its "Australian environmental-economic accounts" for 2015-16, which contained what certainly looks like good news, but interestingly it has attracted minimal interest from the media and environmental groups.
   I've written a few blogs about how we Australians, some of the quickest in the world to adopt new technologies, are lagging behind when it comes to generating our own solar power. Is this another example of our apathy on the subject of increasing economic growth BUT at the same time caring for our environment and the future of our children and grandchildren?I do care about our environment and this is a really good -news story.Another good-news story would be the interest shown so far in the release of Australia's first solar carport kits In just over a month, we have had over 63,000 hits on our website and many inquiries. Solar Carports are another small step in creating power for our future economic growth without destroying our environment in the process another pointer to the fact that economic growth doesn't have to wreck environment.
Solar carports will protect your car and generate your electricity
Article 6
Are you storm prepared?
The RACQ are aware of the damage our weather than cause to our vehicles. Solar carports will protect your car and generate your electricity so its a 2 in 1 sensible upgrade for your home or small business.We read from them"Every year violent storms, flooding and large hail damage thousands of Australian vehicles. Many are 'written off' because they are considered uneconomical to repair.
Find out how you can protect your car from storms.
Keeping your car under cover during these events will offer the greatest protection against damage, however this isn't always possible or practical.
Here are some tips to protect your car from storm related damage.
Plan ahead. If a storm is forecast, try to make arrangements to park your vehicle under cover, delay the trip or use alternative modes of transport.
If caught in a storm, look for safe shelter. This could include a covered car park, a service station awning, under a bridge etc. Don't place yourself or others at risk by where you choose to shelter. Be considerate of property owner's rights if sheltering on private property.
Safety should always be your priority
Don't park or shelter under trees.  They can be blown over or drop branches.
Don't speed up to beat a storm. This can lead to a crash – instead look for a safe place to shelter until the storm passes.
If caught in a severe storm where visibility is reduced, try to pull well off the road to avoid being hit by other traffic.
Turn on lights to increase visibility while driving and use the hazard lights if you are forced to stop at the side of the road. Wherever possible choose a safe place to stop.
If it's flooded – forget it. Even relatively shallow flowing water can sweep vehicles away.
Consider where you park. If the area has a history of flooding in extreme weather events, find somewhere else to stop.
If your home or yard is prone to flooding organise a safe alternative parking spot for your car.
Are you storm prepared?
While we live in the Sunshine State, us Queenslanders know it's not always blue skies. From cyclones, floods and summer storms, we've experienced our fair share of natural disasters. Alarmingly, RACQ statistics show half of all Queensland homeowners have done nothing to prepare for the upcoming storm season. So, are you and your family prepared for when disaster strikes next? Take a look at the first RACQ TV episode about being storm prepared. It has a checklist of simple things to do around your home to make sure you're ready for that next storm.
Insurance Cover
Ensure your car is properly insured.
Repair bills for hail damage can typically exceed $5,000.
Even minor damage can take a week or more to repair. More extensive damage that necessitates panel replacement can extend the repair time to several weeks.
Up to 25% of storm damaged vehicles are written off because the cost of repairs nears or exceeds the value of the vehicle.
Hail covers
Padded car covers intended to prevent or reduce the damage caused by hail stones are available at the best
price here
The level of protection offered by hail covers will ultimately depend on the type of cover and the size of the hail.
Hail covers are unlikely to prevent damage from very large hail however they may reduce the level of damage.
As a guide, hail covers can cost from $200 to more than $500. The price will depend on the quality and features of the cover and whether it is custom made for your particular car.
When buying a cover, consider the following;
Overall quality of the product i.e. fit, stitching, extent and thickness of padding, quality and durability of materials.
Covers that don't have padded sides are unlikely to protect side panels.
Check that it has adequate tie-down points to prevent flapping or loss of the cover in high winds.
Check the quality of stitching and the durability of the cover as it needs to withstand frequent fitting and gusty winds.
Consider the size and weight of the cover. Remember that it needs to be stored when not in use. Storing bulky covers in cars with smaller boot/hatch areas can be a problem.
Check that the cover manufacturer warrants the product for UV resistance and manufacturing defects.
Choose a cover that best fits the vehicle – too big and it may flap around, too small and it will not fully cover the lower sections of panels. Try this our for more information
Hail covers - tips and advice
Practice fitting the cover before a storm. It can take a few attempts to get it on the car without too much effort.
Avoid dragging the cover over the ground as it may pick up grit that can scratch the car's paintwork.
Avoid dragging the cover on the body paintwork when fitting / removing to prevent dirt / dust on the car causing scratches.
Heavy or bulky covers may need more than one person to fit / remove and roll up for storage.
Remove covers regularly to allow any moisture to evaporate. Moisture trapped under a cover could induce rust."
Keep your car under cover - that's great advice and why not under a new solar carport? Solar carports will protect your car and generate your electricity.