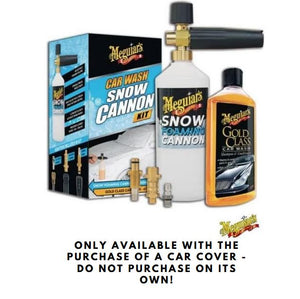 Meguiar's Car Wash Snow Cannon Kit

Meguiar's Car Wash Snow Cannon Kit
Bonus buy for Car Cover buyers only



Available with Autotecnica Car Cover Purchases only!
Meguiar's Car Wash Snow Cannon Kit
- Snow foaming done right - without the gimmicks
- Clean and shine with a proper car wash
- Eliminate the possibility of washing swirl marks and scratches
- Revitalise colour, clarity and gloss
- Won't strip away your wax
Meguiars Car Wash Snow Cannon Kit SNOWKIT
Are you sick of having to wash your car after using snow foaming products? Meguiar's have recognised that most snow foam products are really just expensive pre-washes that you need to follow with regular washing anyway. With other brands, using a car wash foamer, cannon or foam guns becomes an unnecessary extra step that does nothing to contribute to a clean and sparkling finish. But not anymore!


Introducing Meguiar's Snow Cannon Kit
The quick, easy, and effective way to snow-foam your car and achieve exceptional results! The snow foam car wash kit has everything you need in it, including Meguiar's Snow Foam Cannon, high-sudsing Gold Class Car Wash, and 3 adapters (Karcher K Series, Gerni & 1/4″ quick connect) that suit popular pressure cleaner brands.
Pair with Pressure Cleaner
Pair your kit with a suitable pressure cleaner and see the difference! The Meguairs snow foam exhibits superior foaming action and exceptional cling to gently remove dirt, road grime, and other contaminants without stripping your wax protection. As well as removing impurities, Meguiars snow foam revitalises your vehicle's colour, clarity, and gloss.
How to use the Meguiars Snow Cannon Kit
This snow foamer kit comes with a 1L dispenser bottle, a snow foam gun and 3 adapters suited to common pressure washers. To use on a lightly dirty car, start by adding 900mL of water to 100mL of Meguiar's Gold Class Car Wash into the dispenser bottle and mix well.
Attach the bottle to your pressure washer using a suitable adapter to achieve an instant and thick foam.
Aim the snow foam gun at the base of the vehicle and work your way up to the top of the car with an even coat of snow foam. Let it sit for 2-3 minutes to work into the dirt, then rinse off. With a garden hose, let water sheet off the car for faster drying. As a final optional step, use an air gun to prevent water marks.

For cars needing a heavier clean, pre-rinse with the pressure washer to remove loose dirt. Then cover the vehicle with the snow foam and lather up the foam from top to bottom with a clean microfibre sponge. Finally, rinse off the snow foam from the top down and then hose off, allowing the water to sheet. Dry with a clean and dry microfibre cloth to prevent water marks.
WHAT YOU GET:
- Quality snow foam cannon with durable brass neck and adjustable foaming nozzle
- 1-litre dispenser bottle with accurate mixing marks
- 3 adapters to suit popular pressure cleaner brands (Karcher K Series, Gerni & 1/4″ quick connect)
- Meguiar's Gold Class Car Wash - 473ml
GREATER PRESSURE = MORE FOAM AND LESS PRODUCT
- Sufficient to wash up to 5 cars using a 1600 psi machine
- Or wash up to 9 or 10 cars using a 2600 psi machine


SUITABLE PRESSURE CLEANERS
- Electric or petrol powered 'Gerni or Katcher Type"
- Must be between 1450psi to 2900psi
- Excessive pressure may damage paintwork and seals during rinse off
---
We Also Recommend
---