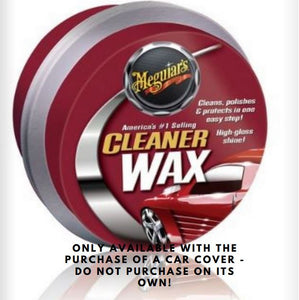 Meguiar's CLEANER/WAX PASTE

Meguiar's Cleaner/Wax Paste Size 14oz 
Bonus buy for Car Cover buyers only (Note this is the large 414ml)



Available with Autotecnica Car Cover Purchases only!
Meguiar's Cleaner/Wax Paste
A versatile and easy-to-apply wax, Meguiar's Cleaner One Step Wax Paste offers unbelievable results without requiring a long and laborious application process.

The pack includes a foam hand applicator pad, which you can use to gently apply the product to your vehicle. After application, simply let the wx dry into a haze
before moving with a microfibre cloth and marvelling at the pristine and brilliant finish.


- Meguiars Cleaner One-Step Wax Paste cleans and protects in one easy move while producing an amazing finish
- Combines gentle cleaners and rich conditioning oils
- Simple one step formula for use on all finishes and paint jobs
Meguiar's Cleaner/Wax Paste Size 14oz
Cleans and protects in one easy step
Safe and effective on clear coat and single stage paint
Creates a sacrificial barrier to the environment
Easier to use than traditional carnauba wax
Can be applied by hand, orbital, or dual action polisher
Effectively and safely cleans surface contaminants and blemishes
Leaves paint with a high gloss shine
---
We Also Recommend
---