Best Indoor Car Covers or Showroom Covers
Posted by Hugh Frame on
Best Indoor Car Covers or Showroom Covers Summary
Best indoor Car covers or Showroom Covers based on price, quality and durability have to be The Show Car Cover by Autotecnica - 5 stars for the price, quality, protection and warranty. To buy click here

Best custom made indoor car cover based on price, quality, fit and durability - Custom Bespoke Velvet Indoor Car Cover - 5 stars for the price, quality, fit and protection. To buy click here
Looking for the Best indoor Car covers or Showroom Covers?
Those of you who are real car enthusiasts and especially those who are collectors know just how quickly your vehicles can get covered in dust in your garage.
In Australia, there seems to be a wide choice but be very careful in your choice. Many are just not worth the money.
There is a lot more to a good indoor cover than keeping your car dust free. Stored cars are vulnerable to deterioration even when they're parked indoors. It's not only dust that settles on your car. Airborne contaminants and dirt soon settle onto your painted and polished surfaces, quickly dulling finishes and causing corrosion. Any car you're planning not to use for days at a time should be protected with an indoor car cover if you want to preserve its condition, value, and appearance. A good indoor cover will also protect your vehicle from accidental dings causing dents in your paintwork.
Outdoor car covers used for indoor car covers
Any outdoor cover can be used for indoor protection and they will do the job as long as they are being taken off every couple of days for a few hours. This is not ideal. A good outdoor cover should have some 'breathability' or breath holes but even good outdoor covers do not have the breathability required to keep mould and mildew from developing on a stored car.
In most cases, you'll find outdoor car covers are heavier and bulky in comparison to a good car cover designed for indoor use. A good indoor cover also has the breathability to be left on the car for lengthy periods of time.
We'll help you look at the range and prices of car indoor car cover and give you some tips on value and protection. There are a few high-quality solutions available but others that just do not seem to be worth the money for the protection offered.
Indoor Car Covers to Avoid
As most readers already know, in most cases you get what you pay for. The cheapest car covers sold for indoor use – certainly anything below $60 – should not be used at all!. These cheap covers are always a poor fit and lack any breathability. Your car would probably be better off stored with no cover rather than using a very cheap cover that doesn't breathe.
Australian Car Covers – Specifically worth staying clear of ★
The least you'd expect from this business is Australian service but this is unlikely from a business working out of the USA. Rather than read our one-star rating, you'll find 25 other reviews – all with a one-star rating – from their own customers. Just read here. The biggest disappointment, apart from the inferior quality and expensive price, is that they are NOT custom made covers but just generic like most others.
The Prestige Protection range (CoverAll) – Available from local Auto-Stores  ★
The fabric is soft and quite well made for a cover under $100. The downside is that the weave is incredibly open. You want a car cover that prevents dust on the paint then you must look elsewhere.
After a few days of use, your paint will be covered with fine dust. It also has tie-down buckles – a feature you rarely see on an indoor cover and one you are probably better without!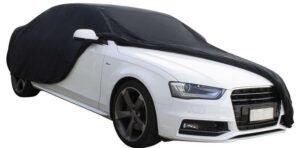 The longer your car sits the more dust falls through. Your freshly washed and polished car will need to be polished again the following week! It is not a very well-designed cover, it's a poor fit and is not really fit-for-purpose.
 Repco Indoor Vehicle Cover ★★
Well priced cover, well made but lacks an inside lining to prevent scratching the car paintwork.  This one is definitely not for anyone who is fastidious about their vehicle.
The Sleeping Bag Car Cover ★★★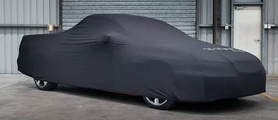 These covers are quite well made and do have a soft lining to protect your vehicle paintwork. They have a lot of stretch and if the correct size is purchased, your car will look good with one of these on.
However, at $400, it is an awfully expensive generic indoor cover and with a fabric weight of just 180gms, they will let dust through, particularly if the fabric is pulled tight, opening up the fabric even more for larger dust particles to get through. It does come with a 3-year warranty.
Pro Car Covers ★★
Everything said about The Sleeping Bag cover is true for the Pro Car Cover. While they are a little less expensive at $330, the fabric is just 170gms, not nearly heavy enough to keep out small particles of dust.
The Show Car Cover by Autotecnica ★★★★★
Advertised as "The ultimate protection car cover for indoor" at the price – starting from less than $120 for a small sedan cover, it is difficult to beat for quality and value.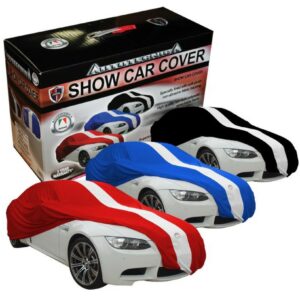 It has superior protection from dust and pollutants and is constructed with the high-quality non-fade polyester stretchable fabric. As you would expect on any good indoor cover, it is also specially lined with a soft and plush non-abrasive fabric backing. This cover is available in 4 different sizes and 3 colours so you will find one to fit most cars. The biggest surprise is it also comes with a 3-year warranty. It is of such quality, we're sure it will last a lot longer than the warranty term.
 Covers for Car Lovers ★★
Like many of the good-looking stretch indoor covers, these tend to be designed to 'show the car' with a full stretch on the fabric. While the weight of the fabric is not advertised, it looks like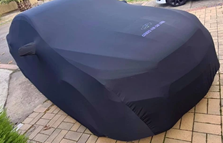 170gms which is not enough to give any protection or keep dust out. Customers have also complained about the poor-quality screen printing.
Custom Made Covers
If you do want a perfect fit for your car, then custom made is the way to go. Not all covers advertised as "custom made" are actually made especially for you. If the supplier is not asking for every detail about your car and/or a photograph then how can they make a special cover just for you? A Custom made cover is a one-off cover made especially for your car.
Generally speaking, a good Australian made cover will be over $1000 and maybe closer to $2000. A highly skilled Australian person will not be working for less than $100 per hour. Your cover may take two days to make! That's $1600 on time alone.
Best Custom Made Covers
If you want a good custom made cover at a reasonable price, it will have to be made overseas. Covercraft of the USA, closed their Australian Factory in late 2019. They still 'pretend' to be in Australia but their covers are very expensive to ship from the USA. Be prepared to wait for a couple of months or more to arrive and expect poor customer service.
Custom Made Bespoke Velvet Indoor Car Cover ★★★★★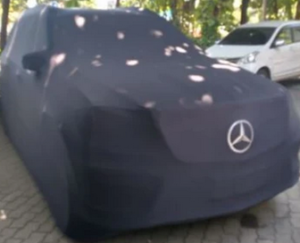 Here is a cover that will be delivered in less than 3 weeks. It is exceptionally well-made, the soft velvet material is stretch 200gsm fabric and customers rave about it. The Custom Velvet Bespoke cover comes in 4 colours and can be made to fit any car. All they require is the year, make and model of your car accompanied by a couple of photographs. Your perfect fit cover will arrive in under 3 weeks from order. These covers start for less than $500 for the smaller size car. You can have any logo of your choice added for a minimal additional cost.
---
Share this post
---
Tags:

car bubble, Car capsule, car cover, car cover hail, car covers, car covers insurance savings, car covers review, carcoon, custom made car covers, hail blanket, hail car cover, Hail protection car cover, hail protection covers, hail stone cover, indoor car cover, motorcycle bubble, outdoor car cover, weatherproof car cover
---
---
0 comment