Hip Roof, Gable Roof or Flat Roof Carports - Which One?
Posted by Hugh Frame on
Hip Roof, Gable Roof or Flat Roof Carports - Which One?
(What are the advantages?)
One of the most common questions new customers ask is Hip Roof, Gable Roof or Flat Roof Carports - Which one and what are the advantages? It's probably best to explain what these carport roof terms mean when looking at the pros and cons of each metal carport roof design. We'll start with one of the most popular carport roof designs in Australia; the hip roof carport to understand why it's so popular.
Hip Roof Carports
A hip roof, hip-roof or hipped roof carport, has a roof where all sides slope downwards to the walls, usually with a fairly slope. A hip roof carport has no gables or other vertical sides to the roof.
  Hip Roof Carport
A square hip roof is shaped like a pyramid so Hip roofs on carports could have two triangular sides and two trapezoidal ones. A hip roof on a rectangular plan has four faces and they are almost always at the same pitch or slope. This makes them symmetrical about the centre-lines. The standard pitch on the Professional Choice hip roof carport is 20 degrees. This can be 'customised' to be steeper. Hip roof carports often have a consistent level fascia, meaning that a gutter can be fitted all around.
Advantages and disadvantages to the Hip Roof Carport
A hip roof carport is self-bracing, requiring less diagonal bracing than a gable roof carport. Hip roof carports are thus much better suited for high wind or cyclonic regions than gable roofs. Hip roofs have no large, flat, or slab-sided ends to catch wind and are inherently much more stable than gable roofs. Generally, Hip roof carports are a little more difficult to construct than a gabled roof carport and they require a slightly more complex system of rafters or trusses. This means that they are also more expensive than gable roof or skillion carports. Tradesmen who know about building will almost always choose a hip roof carport for their own use. They look great and the extra durability guarantees a long life.
Dutch Gable Carport or Dutch Roof Carports
The Dutch gable carport is a variation on a hip roof carport. The name Dutch gable roof is used in Australia and the USA. In the UK they are usually called a gable roof carport.
    Dutch Gable Carport
Basically, the Dutch gable carport is a hip roof carport with a small gable (the gablet) above it. Apart from looking great, often with a two colour Colorbond roof, the Dutch Gable carport simplifies the construction of the roof. No girder trusses are required but it still has level walls and consistent eaves like the hip roof carport.
The advantages and disadvantages of the Dutch gable carport are like the hip roof carport.
Flat roof Carport or Skillion Roof carport
Technically, we do not sell flat roof carports. A Flat roof carport probably does not need any explanation, it's just a flat Colorbond Roof!  In fact, it's not a flat roof – it is on a slight slope to allow the water to run off into a gutter on one side of the carport and it's that small angle that makes it a skillion (or sloped) roof carport and not a flat roof!
Recently introduced and one of the least expensive is the Professional Choice Range, probably the strongest carports available in Australia which can be supplied in 'Solar-Ready" packs which means that unlike all the other carports described, (apart from the Professional Choice Gable) are the only carports which can be retro-fitted with solar panels - yest strong enough to install panels on top to Australian Standard!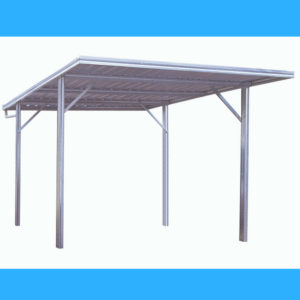 Budget flat roof carport double or single carport
The Standard Skillion Carport by Lysaght is strong and probably the most popular carport in Australia.
The Budget Skillion Carport is 100% Australian made and a great value, easily assembled product for the budget-conscious buyer. The solar carport series of single and double carports are skillion or flat roof carports. A better and cheaper option is the solar ready series of carports in all roof types.
Advantages and disadvantages- Flat roof or skillion carport
Customers often prefer flat roof carports or skillions roof carports as they should be called, because they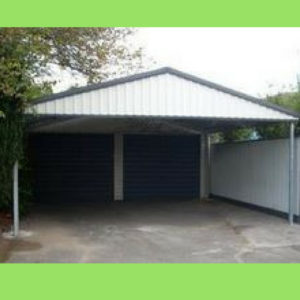 Budget Gable Carport double or single
are relatively inexpensive and easy and quick to install. They are not as noticeable in the yard as other roof styles. The cheap skillion carports from some of our large hardware warehouses tend to come in thousands of parts that can take a couple of batteries and a morning's work to put the pieces together before you start assembling the carport! Obviously, because of their pitch roof, skillion roof carports enable water to drain off effectively.
Gable Roof Carports 

The gable roof carport is now available in Professional Choice - the strongest and one of the least expensive carports available. Unlike all others, these can come in "Solar -Ready" - yes, strong enough to Australian standard to retrofit solar panels on the roof.
The Gable roof carport or gable carport is also one of the most popular styles. Typically, a gable roof is what a child will draw if asked to draw a house. The gable roof carport is the classic, most commonly occurring roof shape in parts of the world where rain and snow is common. The gable roof has two roof sections sloping in opposite directions (upside down V shape). The highest, horizontal edges meet to form the roof ridge. The design of this type of roof is achieved using roof trusses or purlins.
Gable Roof Pitch
The pitch of the roof and the height of the gutters can vary greatly. The standard Lysaght pitch is 20 degrees but can be customised to suit whereas the Budget Gable Carport is 15 degrees. The open front and back of the inverted V shape can be left open or filled in. It is filled in the Budget Gable Roof Carport, but you should order the gable roof with front and rear infill if you want this in the extremely strong Lysaght gable carport range.
Advantages and disadvantages to the Gable roof carport

Gable roofs have several advantages:
They are not expensive
They may be designed in many ways and colours for roof, gable ends and guttering.
They are based on a simple design principle.
They are very weather-resistant
In Australia, apart from the most severe cyclonic zones, it's difficult to identifyreal disadvantages to the gable carport design. The Colorbond metal gable carports are easily installed, they are relatively inexpensive, and the colour matches between existing homes, roofs and gable ends can make a very attractive, long-lasting carport.
Hip Roof, Gable Roof or Flat Roof Carports -what are the advantages? This should help you to choose.
---
Share this post
---
---
---
0 comment