Indoor Car Covers - Best and widest Choice!
Widest range of car coverings in Australia, best service at the best prices!
Don't spend hundreds on an inferior cover. 3 Year Guarantee - Best generic cover in Australia is the Autotecnica Showroom Range from $119 each. Click here to see.
Car Covers and Shelter offers the widest range of quality indoor car covers. If  you care about your car, then invest in a Custom Made Car Cover, guaranteed to  give you the perfect fit, best quality and  best price in Australia and described by customers as "The Best cover ever!"  Custom Covers are made specifically for your vehicle.They are not customised covers just altered from an existing design as others offer. For a "reveal' car cover for your showroom, complete with your manufacturer logo try our classy Satin Showroom Reveal with your own personal logo!

The PU Fabric is designed as an excellent indoor or outdoor cover with a classy 'leather look' finish and weatherproof and 'breathable". The hand made PU cover will delight you..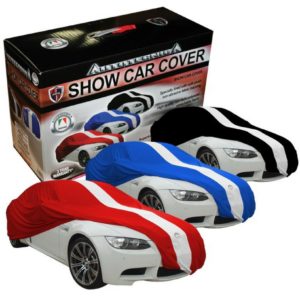 Utes and SUV's have showroom covers too
Outdoor/Indoor Car Covers
Any outdoor cover can be used as an indoor cover and in particular, the Autotecnica Evolution range is a High quality, strong, light but in-expensive weatherproof car cover suitable for outdoor or indoor car cover use.
Best Protection Ever - The Car Bubble
The Car Bubble gives your vehicle the ultimate indoor protection. If you really care about keeping your car in mint, original condition, the car bubble is your ideal choice. Bubbles protect your vehicle from all damage and scrapes. Car Bubbles keep your vehicle moisture-free to prevent mold and corrosion. They also keep out vermin such as rats and mice. Storing your car in a car bubble may even increase the sale price! The indoor range of Car Bubbles is the most popular, available for Utes, SUV and Motorcycles. Check out the Premium Outdoor Car Bubble Range.
Autotecnica Showroom Car Cover Range
The Autotecnica Show Car Cover range has something for almost any type of vehicle. A full  range of stretch car covers to fit almost any sedan, SUV car covers, Ute car covers, GT Car Covers and inflatable bubble car covers.  A soft non-abrasive lining protects your paintwork .  They all come with a 3 year warranty. For that very special vehicle, have a look at the new range of showroom car covers, Concourse D' Ultimate, the perfect protection for your valuable asset. You might have that special GT like a Mustang, then try the Grand Turisimo - perfect for any GT.
Autotecnica showroom car covers for indoor protection and dust protection. If you really want quality showroom cover for any vehicle with wheels, see the Custom Car Cover range.
---